Fairs and festivals have their own importance and significance. Main festivals and fairs being celebrated in Baba Gangaram's Dham with great enthusiasm and joy are reproduced below :
Aashirwad Diwas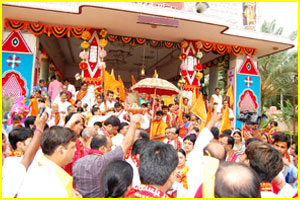 Devotees dancing with holy ensigns in temple compound. (Ganga Dasahara)
The blessing day- as evident from the name, this festival is celebrated on the day, the supreme devotee Bhakt Shiromani Sri Deokinandan blessed by raising his hand. Hence devotees worship him to get blessings on this day. The festival falls, on 4th dark fortnight of the month of Baisakh (in the month of April).
Ganga Dasahara
Ganga Dasahara is praised for its glory in Indian mythology as the day, the holy river Ganga descended on the earth from heaven. This auspicious day draws importance for Shree Panchdeo Mandir as Sthapana Diwas (Day of inauguration). Fairs, colourful festive ceremonies and special puja are arranged on this day. Those who cannot visit the temple, offer their obeisance at their home. The day, generally falls between May & June (Jestha Shukla 10 according to Indian Calendar).

Jayanti Mahotsava
Shravan Shukla -10 ( which falls in the month of July or August) is the auspicious day of Manifestation of Lord Baba Gangaram. Besides processions and other festive ceremonies, Bhajan-Kirtan (Psalm singing) in praise of Baba is arranged. Devotees devote this day to fasting and decorate Baba's image by flowers etc.
Procession with Baba's chariot proceeding towards the town

.
They offer various Delicious foods (prasad) to Baba and distribute it among others. The birth place of Baba, 'Modigarh' at Jhunjhunu gets attractive decoration on this day and programmes of Bhajan-Kirtan are arranged.