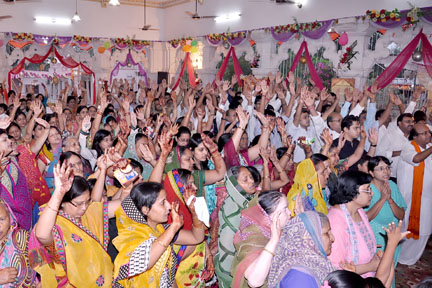 Devotees praying in the temple
It is not possible for a common man to adopt lengthy methods of rites to worship in his daily busy life. Infact Lord Baba Gangaram, the incarnation of Lord Vishnu, needs no formalities or offerings. Meditation, prayer, Kirtan (Psalm Singing), fasting and chanting His name through mantras are the easiest way to worship Him.
Besides three main festivals (refer : Festivals), the 10th light lunar day of each month (Shukla Dashmi) and Tuesday bear greater importance and are regarded as special day for fasting and to worship Baba Gangaram.
Mantras
Few Mantras to utter the name of Baba & Bhakt Shiromani are as follows
| | |
| --- | --- |
| 1 | Shree Gangaram Devaya Namaha |
| 2 | Om Tatsat Shree Gangaram Devaya Namaha |
| 3 | Om Bhakt Shiromani Shree Deokinandanaya Namaha |
Aarti, Chalisa & Bhajan Prayers (Audio)
Chalisa & Aarti (Text)
Important morning prayers are 'Chalisa' and 'Aarti' , which could be included in daily routine :
Click here for Baba Gangaram Chalisa & Arti.
Click here for Shree Bhakt Shiromani Chalisa & Sankirtan.