Location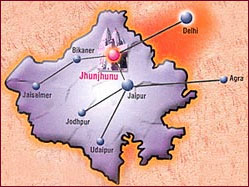 Jhunjhunu, a district town of North East Rajasthan is connected through Rail & Road to almost all the parts of India and its airport is under construction. It is easier to reach here via Jaipur (180 Kms.) and Delhi (230 Kms.). Baba Gangaram's Dham- Shree Panchdeo Temple is situated on main Jaipur -Loharu state highway.
Postal address :
SHREE BABA GANGARAM DHAM,
SHREE PANCHDEO MANDIR,
JHUNJHUNU -333001,
RAJASTHAN, INDIA
Tel:
(01592) 232275
Mobile:
09462682220
E-Mail:
babagangarampanchdeo@gmail.com
Website:
One can land at Delhi or Jaipur by Rail/ Road/ Air and follow the suggested route :
From Delhi
Road
Delhi to Gurgaon- Rewari- Narnaul- Singhana
Chirawa- Jhunjhunu ( appx- 230 kms)
or
Delhi to Rohtak- Bhiwani- Loharu- Pilani- Jhunjhunu
(appx- 250 kms.)
Rail
Western Railway runs daily - Shekhawati Express between
Loharu & Jhunjhunu.
Bus
Rajasthan Roadways, Haryana Roadways and DTC Services
operate buses at an interval of about one hour round the clock.
From Jaipur
Road
Jaipur to Chaumu-Ringas- Sikar- Nawalgarh- Jhunjhunu
(appx- 180 Kms.)
Rail
Indian Railways runs Shekhawati Express, Intercity Express and
Passenger train which connect Jhunjhunu with Jaipur.
Bus
Bus services being operated by Rajasthan Roadways Private operators are
available at an appx. interval of 15 minutes.
Distance from some Important Cities
| | |
| --- | --- |
| City | Distance in Kms. |
| Jaipur | 180 Kms. |
| Delhi | 230 Kms. |
| Agra | 424 Kms. |
| Jodhpur | 390 Kms. |
| Udaipur | 527 Kms. |
| Kolkata | 1704 Kms. |
| Mumbai | 1380 Kms. |
| Varanasi | 1025 Kms. |
Neighbouring Pilgrimage Centres & Places of Tourist Interest :
Salasar
92 Kms.
(Famous Hanuman Temple)
Khatu
125Kms.
(Shree Khatu Shyam Temple)
Lohargarji
68 Kms.
(Holy watertank of the age of
Mahabharat)
Shakambari
67 Kms
(Devi Temple in the valley of
Aravali Hills)
Pilani
47 Kms.
(Reputed Educational centre and
Saraswati Temple)
Khetri
72 Kms
(Famous Copper mines and
Vivekananda kendra)
Mandawa
25 Kms
(World famed frescos of
havelees)