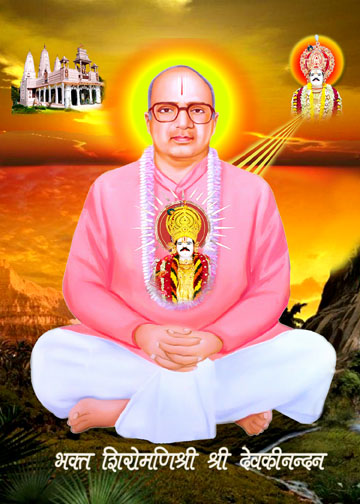 Supreme Devotee
Bhakt Shiromani
Shree Deokinandan
There are numerous illustrious mysteries in our mythology enlightening the glory of devotion and dedication to God. But in the present age of Kaliyug, the miraculous event, seen on the funeral pyre of Bhakt Shiromani Sri Deokinandan, supreme devotee of Sri Baba Gangaram, was immemorable and beyond imagination. The episode was recorded in letters of gold in the history of Shree Panchdeo Temple at Jhunjhunu on 21st April, 1992. In this context, it may be quoted that Bhakt (Devotee) is revered as a embodiment of God and whenever God incarnates, devotee also comes with Him, sometimes in the form of dasa (servant of God), sometimes in the form of sakha (friend) and sometimes in the form of son, to help Him in His Leela (Spiritual games).
The Transcendental Miracles :
Soon after Bhakt Shiromani Sri Deokinandan left for his heavenly abode, his right hand was viewed in benediction appearance (See Picture No 1) . After the funeral journey around the temple completed, his body was placed on funeral pyre erected on the land enclosed with temple and as per the rites his both hands were tied behind (See Pic. 3).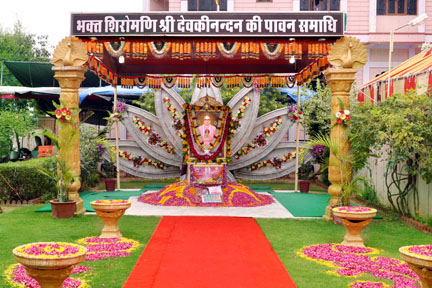 Cenotaph of Bhakt Shiromani Sri Deokinandan
When the mortal remains of the supreme devotee was put to flames, his devoted wife, Devi Gayatri prayed to Baba in respectful witness to Sun God, "0 Lord! this mortal body of your beloved devotee is going to merge in Panchtatva (Earth , Water, Fire, Air & Ether) soon. If you had granted place to my husband under your lotus feet, kindly show some miracles" (See Pic. 5). And Lo! the live funeral pyre was shakened and instantaneously the right hand of the supreme devotee started rising upwards and shaked in blessing pose for few minutes (See Pic 6). Simultaneously a stream of water akin to Ganga gushed out from his head and his face turned to Balswaroop (Childish look) (See Pic. 7). Everyone present there was infused with spiritual experience and sang in Baba's glorification with great surprise and ecstasy. This is not a fairytale or myth, but the people present there and the photographs of the event prove the whole episode.
There is nothing like impracticable in Lord's divine past-time. Bhakt Hanuman scratched open his chest and exhibited the image of Ram and Sita and thus disclosed the influence of profound devotion. Similarly, Bhakt Shiromani Sri Deokinandan had the holy name of Lord Baba Gangaram in every pore of his skin. It is, therefore, not at all surprising that such miracles emanate from his material body.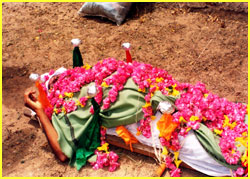 Body of Bhakt Shiromani Deokinandan-The right hands viewed in benediction appearence
Pic No.1
He was above the worldly bondage and both earth and heaven were same to him. After establishing the temple, he devoted himself wholly to meditation, devotion and absolute self-surrender to Baba. He distributed all his wealth as Prasad, which is beyond imagination in this materialistic world. Alongwith his family, he lived a simple, disciplined and spiritual life in temple. His devotion was like Bhakt Hanuman and sacrifice was like king Harishchandra. Ultimately his devotion and sacrifice turned the temple to a sacred pilgrimage centre. And as such devotees visiting Shree Panchdeo Temple, pay their respectful homage to the supreme devotee at his samadhi (cenotaph) and seek his blessings
"Hail to Bhakt Shiromani Shri Deokinandan and his Lord Baba Gangaram."
Funeral Procession Starts (Pic.2)

Body placed on funeral pyre and hand tied behind (Pic. 3)

Funeral pyre was lit (Pic.4)

Wife Devi Gayatri praying to Baba to show some miracles.. (Pic.5)

The Right Hand started rising and shaked in Blessing Pose (Pic.6)

While right hand still in blessing pose, face turned to childish look and water gushed out of head. (Pic.7)

Right hand was blessing till last

Everyone Praised this as Baba's miracle

(Pic.8)

(Pic.9)

Samadhi (Cenotaph) of Supreme Devotee

Adjacent to the sacred shrine, there is the auspicious place where the miracles from the mortal body of Bhakt Shiromani was manifested (See article :Supreme Devotee). The place is consecrated after this transcendental incident. The visitors are infused with a real eternal peace at this place.

MAA GAYATRI DEVI




MAA GAYATRI DEVI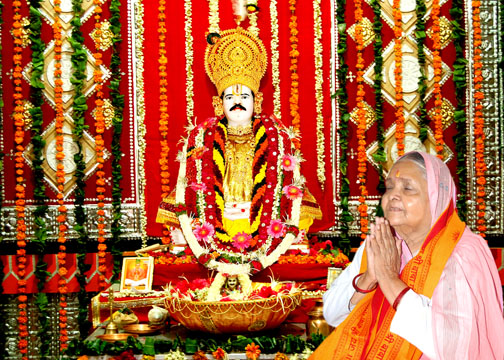 Maa Gayatridevi
Lord Baba Gangaram's infinite devotee and the wife of Bhakt Shiromani Sri Deokinandan, Maa Gayatridevi is the living figure of mercy, affection and sacrifice. Even in this sinful atmosphere of kaliyug, her devotion is being continued within the premises of Shree Panchdeo Mandir, Jhunjhunu.
Devotees visiting the temple gets the blessing of Maa Gayatri devi and as such they find a sea change in their life. Her preachings, discourses and her dedicated life gives spiritual support to the devotees and all their materialistic desires are also fulfilled. Thay get eternal joy, peace and bliss.
Although she has bounded herself within the premises of temple, but she knows everything about the devotees.The supernatural miracles appeared on the funeral pyre of Bhakti Shiromani Sri Deokinandan after the merciful prayer of Maa Gayatridevi is the absolute proof of her devotion.
Thus the living image of Maa Jagdamba, Maa Gayatridevi is a boon of the devotees of Baba Gangaram.Her devotion and sacrifice like Maa Sita, Sati Savitri and Sati Anusuya, will show the path of supreme devotion to the mankind.